Nine Governors and the Headteacher make up the Governing Board of Slimbridge Primary School. We provide strategic direction to the school and work hard to help the staff provide high-quality education for every child. Of course, when we say education, we don't just mean numeracy, literacy, science and so forth. We want to offer children so much more, and we're delighted to be part of a school that builds children's confidence through praise, encouragement, and experience.
The Full Governing Body meets six times a year, and we have additional meetings each term for our two committees:
Finance and Premises
The Finance and Premises Committee oversees all the financial aspects of the running of the school, monitoring expenditure, approving the budget and agreeing the final accounts. All aspects of the school premises are also managed, including capital bids for renovation and new building projects.
Curriculum and Learning
The Curriculum and Learning Committee oversees and monitors all matters relating to the school's curriculum, monitoring the target-setting, delivery and outcome of teaching across the school by reviewing data and school improvement action plans.
Each Governor also has individual responsibilities, such as 'Literacy Governor', as detailed in the Governors' Profiles below.
Governor business interests
All governors declare in writing any financial and business interests at the start of the first Full Governing Body meeting of the school year.
Governors also have to declare any financial interests verbally at the beginning of every committee meeting.
We have summarised the information about our current governors, including business interests, areas of responsibility and attendance record, in the table below. If you have any questions, please contact either our clerk, Dr Sandra Ashenford (clerk@slimbridge.gloucs.sch.uk) or the Chairs (either directly or via chair@slimbridge.gloucs.sch.uk).
Our policy on allowances for Governors is available here. Governor Allowances Policy 23-24
Our  Governors Code of Conduct is available here. Governor Code of Conduct 2023-2024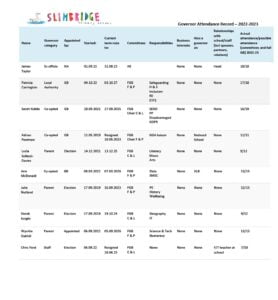 Meeting Attendance
See the links below for attendance of meetings:
Governor Attendance Record 22-23
Abbreviations: F/T, full-time; GB, Governing Board; HTPR, Head Teacher's Performance Review; NA, not appropriate; P/T, part-time; SEND, special educational needs and disabilities; C&L, Curriculum and Learning; WWT, Wetlands and Wildfowl Trust.
*Parent governors are appointed if no election is held (for example, if only one person is nominated)
At Slimbridge School, we strive for transparency and accountability in all aspects of our operations, including financial matters.
As part of our commitment to openness, we hereby declare that no member of our staff earns over £100,000 per year.
We adhere to strict guidelines and regulations regarding salaries and remuneration, ensuring that our financial resources are allocated responsibly.